These are some things I noticed for LT Foods.
While KRBL has reduced its debt from 1090 Crores to 272 Crores as per half-yearly balance sheet, LT Foods debt had only gone down from 1611 Crores to 1433 Crores (Sept 2017 BS). To buy more inventory during the Oct-Dec season, they should have borrowed more.

For margin expansion to happen for LT Foods, they have to capture more of the super-premium market share. LT Foods doesn't have a competitive product in the super-premium segment. To put it in perspective, one must look at 82% market share KRBL enjoys in this segment in GCC countries.

Why doesn't LT Foods have a competitive super-premium product? I think the answer is in their AR where they mention that in addition to what they procure via contract farming route, they get more from the open markets. They don't seem to be keen to change this either as they mention outsourcing some of the activities and going "asset-light". I think this is where the KRBL's product obsession makes the difference. KRBL seems very keen on maintaining product quality and that is apparent on many pages in their AR and one of the risks they mention is maintaining it in the years ahead. They clearly know what differentiates them.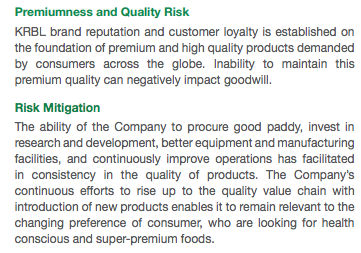 There is good scope for KRBL to capture even more market share if LT Foods is not able to raise money enough to build inventory. The poor cash conversion cycle should sooner or later come back to haunt LT Foods.